Once again it was a hard week to get outside to take pictures. The weather has once again been rainy and miserable.
On Easter Sunday I had some fun with the kids at my parents' house. We were practicing our jumps for the awesome sunset silhouettes we're going to do should we ever find a small exercise trampoline (anyone...anyone...). Gotta love the concentration on Ethan's face.
This is the Easter Sunday outfit Ava wore to church. She picked it out. It was not the hill I wanted to die on, so I caved. At least she had a jacket over it.
Just a reminder of the rules:
1. The picture has to be taken by you.
2. The picture has been taken during the past week and it can be a picture you have posted earlier in the week.
3. Link up using the link to your individual blog post and not your main blog address.
4. Please include the Fabulous Friday button (below) in your post to link back to my site.
5. Leave feedback for five other participants. Let them know what you think!
6. By linking up you are okay with me re-posting your photo here if you are chosen for the top five.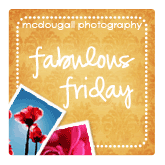 Thanks for participating everyone! Have a fantastic weekend. The linky closes Sunday night and winners will be posted Monday.